Wow another year gone by! On looking at this tag on other blogs I can see there are many awesome books going around and it is always nice to have recaps from time to time 🙂 More bookish musings are as follows 🙂
Best book you've read so far in 2019
My only 5 star read this year and I think it deserved every one, a realistic story line, complex characters and twists and turns galore this is a book I'm really glad I managed to pick up and I'm so glad I didn't return this even when I'd renewed it over 10 times 😮 When I have time I will get by to reading the sequels but at the moment I'm so tied up with planning my Japan TBR…
---
Best sequel you've read so far in 2019
Read this at the beginning of the year while on my trip to Seoul and it proved to completely live up to expectation. My only regret with this series is that I didn't have enough time to finish the trilogy before I came home but I know if I ever go to Korea again there will be plenty of reading material to consider 😉
---
New release you haven't read yet, but want to.
I WAS planning on taking this with me to Japan and I have ordered it from my library but it has yet to show up on the system so my chances of taking this with me look really slim cause I'll be going away on the 30th of this month which only gives them a week and a few days to bring the book in
So frustrating! I hope they can get SOME of the books I have ordered for Japan in…
---
Most anticipated release for the second half of the year.
Ever since reading A Thousand Nights by E.K. Johnston and visiting the Namib desert last year I developed a love for all fantasies with desert settings. Basically everything about this appeals from the setting, the plot to the promise of strong female leads. I WILL get this once it comes out, now that is a promise!
---
Biggest disappointment.
I will write a review for this soon, but still I am reeling by how shockingly bad this book was. The writing was hard for me to follow, the characters unrelatable and the way the plot was executed was just plain silly. This was supposed to be a Matrix style story and I was expecting many philosophical speculations especially since the author is the son of the astronomer Carl Sagan, bet everything was just so mediocre I didn't feel anything. I'll save my rantings for later 😛
---
Biggest surprise.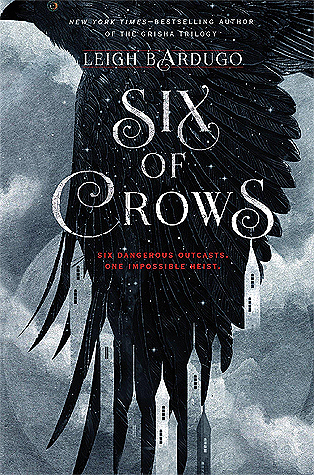 Okay, for those of you who have read the Grisha series and not liked them, I'm pretty sure there are some who were a little apprehensive of reading from this author again especially a series set in the same world. Like many others I too was pleasantly surprised by this as it proved to be nearly everything good the Grisha series wasn't. Highly recommended, I need to get my hands on the sequel.
---
Favourite new author. (Debut or new to you)
Oh there a a few this year! I'd say one of the authors works I really connected with this year was A Game of Thrones by George R.R. Martin and sure, there were some things in that book I didn't really connect with but overall I really enjoyed this authors writing style and will definitely be reading more from him 😀
---
Newest fictional crush.
I'd say Jamie from Outlander was the best written male character out of all the books I've read this year and the way I imagine him… I think Claire is proper lucky given the time she travelled to!
---
Newest favourite character.
Once again this honour will have to go to A Game of Thrones as the character I most enjoyed reading about is Arya Stark. She is the embodiment of badassery and I strongly look forward to seeing more of her in later books!
---
Book that made you cry.
It didn't exactly make me cry but I did get a bit of feels when they portrayed the zombies in a sentimental way and read out the letters from loved ones to them… Apparently this series gets even more teary with many more deaths to come of close characters but it's just the way this is written that contributes to feels, well for me anyway 😛
---
Book that made you happy.
I'm so glad I managed to finish this series this year after over 10 years! These books are so heartwarming and I really enjoyed these characters and their lives, but this was a wonderful ending to a wonderful series that I'd recommend to anyone looking for simple easy reads.
---
Favourite book to film adaptation you saw this year.
Still haven't seen any
At the moment I still am not a film person and wonder if I'll ever be…
---
Favourite review you've written this year.
Out- Natsuo Kirino there were so many interesting feminism themes in this book that I really enjoyed getting the chance to write down. A recommended read too, if you don't mind graphic content.
---
Most beautiful book you've bought so far this year (or received)
I haven't read any of the books I've bought or received yet and it doesn't look like I'll get much of a chance to either. I'll say he most beautiful book I've read so far (beautiful in the themes and topics it explores) is Zero K – Don DeLillo . I wish I'd have read it in a happier time of my life as the language and philosophies the story explores were depressing yes, but on looking back I think they were well though of and this is one of those books I think I'll enjoy more after some time after finishing it. Maybe I should reread one day…
---
What books do you need to read by the end of the year?
Oh so so many! Basically all the library books I have out at the moment I want to get finished as soon as possible because of the amount I have out and the amount of times I've renewed them. "So many books, so little time"- Frank Zappa
That's all from me for now, which are your favourite books from the first half of this year? 🙂