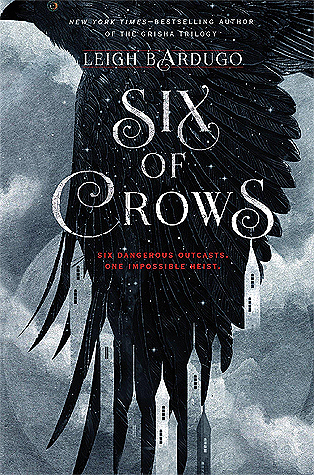 Release Date:
 September 29th 2015
Genres:
 Young adult, high fantasy
Description
Ketterdam: a bustling hub of international trade where anything can be had for the right price—and no one knows that better than criminal prodigy Kaz Brekker. Kaz is offered a chance at a deadly heist that could make him rich beyond his wildest dreams. But he can't pull it off alone. . . .
A convict with a thirst for revenge
A sharpshooter who can't walk away from a wager
A runaway with a privileged past
A spy known as the Wraith
A Heartrender using her magic to survive the slums
A thief with a gift for unlikely escapes
Kaz's crew is the only thing that might stand between the world and destruction—if they don't kill each other first. 
Let me start by saying I wasn't a huge fan of the Grisha trilogy as I found everything rather dry and boring, this on the other hand took elements from the old series and spiced them up to a whole new level. To me it felt like sometimes this book was written by the authors evil twin or something but after the lightness of the Grisha trilogy this wasn't a bad thing 😉
Fight from the start this book throws the reader into an engaging mystery with plenty of action and lots of intrigue. I also found in this book the world was explained a little better, not much better, but better than what was presented in the Grisha series. It felt like the Grisha themselves were also portrayed better with them having more depth and feeling more realistic which made the story flow in a more interesting way. What I really enjoyed the most was the authors portrayal of the world and different cultures and how it was all brought to life because the whole story had a huge epic feel to it and there was  an awful lot in regards to plot twists and things going on.
On to the characters, I will say I think I loved them all though I'm still not sure what I think of Kaz as I really loved his ingenuity and talents but found him unlikable in personality. Seeing what he went through when he was younger makes me understand a bit but still I don't think I've ever met a character like him in a book before so for now I have a love-hate thoughts about him and strongly look forward to seeing where the author will take him. That's another thing I must mention, I loved how this story was crafted with not everything being revealed at once and when we do get to learn about the characters pasts it is all delivered in such a real and vivid way. It is so easy to be able to emphasise with these characters and feel their thoughts and see through their eyes which is a definite aspect I came to love here.
As I said before, this book is not light like the Grisha series but for me that makes it all the more better because I really clicked with this story and world and now I will mention I read this book on a family mini cruise trip to Amsterdam and Ketterdam is based on the Netherlands 😉 It was easy to imagine the dark streets and canals of this setting with its cast of antihero characters and as I said before even though this seems to be only about a prison heist the scale is way bigger than that and the characters are all pulled into something massive especially at the end with that cliffhanger I so wasn't expecting! The author really manages well to set up the scene for the next book which I hugely anticipate finding the time to get my hands on. A very exciting read with only little flaws of the world still being a bit confusing, but that's just me being extremely picky.  😛
Who I'd recommend this for
I would love to recommend this book to anyone who loves YA fantasy and anyone who has lost faith in this author because of the Grisha trilogy. This is hardly anything like that series and while it has some elements the same, it truly does bring something new to the table. So yeah, if you're looking for something exciting and darker then this is for you 🙂