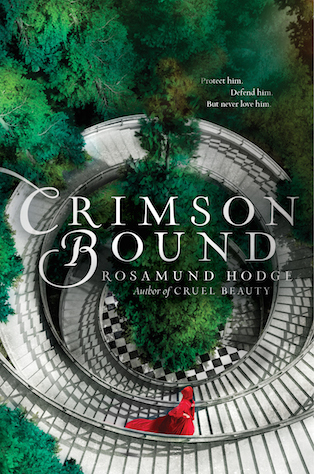 Release Date:
 May 5th 2015
Genres: 
Young adult, high fantasy, retellings
Description
When Rachelle was fifteen she was good—apprenticed to her aunt and in training to protect her village from dark magic. But she was also reckless— straying from the forest path in search of a way to free her world from the threat of eternal darkness. After an illicit meeting goes dreadfully wrong, Rachelle is forced to make a terrible choice that binds her to the very evil she had hoped to defeat.
Three years later, Rachelle has given her life to serving the realm, fighting deadly creatures in an effort to atone. When the king orders her to guard his son Armand—the man she hates most—Rachelle forces Armand to help her find the legendary sword that might save their world. As the two become unexpected allies, they uncover far-reaching conspiracies, hidden magic, and a love that may be their undoing. In a palace built on unbelievable wealth and dangerous secrets, can Rachelle discover the truth and stop the fall of endless night?
Inspired by the classic fairy tale Little Red Riding Hood, Crimson Bound is an exhilarating tale of darkness, love, and redemption.
(This is a standalone novel, not part of the Cruel Beauty Universe.) 
This is one of those books I should have devoured with its interesting mythology and a plot that had many hidden depths, but for me this was a dull, boring and hard to care about story that in many ways could have been made more eventful. When I say it could be made more eventful I mean we could have seen more of the enemy and had more going on in regards to the dire situation the characters were in, instead I felt a lot of the plot focused on palace and court life which to me made this book quite easy to put down.
The back stories of the characters and the general storyline which everything focused on were really well thought of and I really loved the ideas behind the Great Forest and the Devourer as not only were they inspiration for my own stories but they were also well presented and made very believable for this story world. I will also say here the characters apart from the MC were well fleshed out, not entirely likeable but well imagined, I found Rachelle quite hard to connect with because most of the time she just wanted to be a badass hero and didn't always have her own human touch, feelings and emotions apart from the really romantic parts, I suppose that was part of what she became but it did say she held on to her human side even though I feel I didn't see as much of that as I would have liked as most of her thoughts were on her mission or romance. Like I said the mythology and world building were the best parts of this story and I would have liked to have seen more action in regards to this rather than court romance.
I found the writing style average and as I said the action was few and far between for most of the part with a massive speed-up at the end. Most of this book was mainly focused on court intrigue and building up the romance between the characters I would have loved to have seen more of the Great Forest and more of the creatures from there as the author really did a good job in painting a picture of the world and everything there, really setting up the scenes well. It was just the storyline and Rachelle's constant badassery that ruined it for me as I found much of this uneventful story to be very boring and most of the time I just could not wait to finish. The ending was somewhat satisfying with everything being wrapped up nicely but even when plot twists and revelations came at the end I hardly felt anything as the build up to them was poor and I was just so bored with the story I just kind of barged through the last parts feeling even more bored with Rachelle as even when she changed there was no wow factor to anything.
In the end I will say I am really disappointed with this book that had so many good ideas that could have been executed better and a MC that reading about was absolutely nothing special. I think I might try this author's Cruel Beauty one day, I don't know why only that I feel compelled to. Is that one better or is this one the best? 😛
---
Who I'd recommend this for
If you like fantasy books which are quite royal palace and romance centred then this would be perfect. If you're like me and prefer books to have more of a mixed plot with action and intrigue into the mythology then this might not be the read for you, I won't say I regretted reading this as like I said there were some good inspirations I picked from this for my own stories I think of sometimes but it still remains a disappointing start to this year in terms of books.