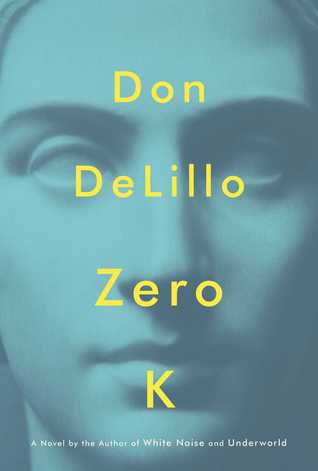 Release Date:
May 3rd 2016
Genres:
 Adult, science fiction, literary fiction
The wisest, richest, funniest, and most moving novel in years from Don DeLillo, one of the great American novelists of our time—an ode to language, at the heart of our humanity, a meditation on death, and an embrace of life.
Jeffrey Lockhart's father, Ross, is a billionaire in his sixties, with a younger wife, Artis Martineau, whose health is failing. Ross is the primary investor in a remote and secret compound where death is exquisitely controlled and bodies are preserved until a future time when biomedical advances and new technologies can return them to a life of transcendent promise. Jeff joins Ross and Artis at the compound to say "an uncertain farewell" to her as she surrenders her body.
"We are born without choosing to be. Should we have to die in the same manner? Isn't it a human glory to refuse to accept a certain fate?"
These are the questions that haunt the novel and its memorable characters, and it is Ross Lockhart, most particularly, who feels a deep need to enter another dimension and awake to a new world. For his son, this is indefensible. Jeff, the book's narrator, is committed to living, to experiencing "the mingled astonishments of our time, here, on earth."
Don DeLillo's seductive, spectacularly observed and brilliant new novel weighs the darkness of the world—terrorism, floods, fires, famine, plague—against the beauty and humanity of everyday life; love, awe, "the intimate touch of earth and sun."
"Everyone wants to own the end of the world"
On reading that first line I genuinely thought me and this book would get along really well and that it would be one of those immersive reads that is full of meaning. I'm not saying it wasn't a book like that, only that I couldn't really connect with it and didn't "get it" so to say thus not getting the best experience from the novel.
It wasn't long after I'd read the first few pages that I began to think the writing tedious and the story slow-moving and uninteresting. I can see a lot of other reviewers felt similar and this book doesn't have a very high general rating on GR. I went into this book expecting a philosophical ride full of amazing ideas, one that would leave me speechless and give me fuel for my thoughtful moments I have when I use time to just think (usually of my own stories and characters, though they are all very much inspired by philosophy). Don't get me wrong though, there were some very interesting themes here in regards to the meaning of death and human identity which I thought were really well explored, just not really presented well which brings me on to the way it was written.
The writing style was something in this book I had a love-hate relationship with as when it was describing the characters, their conversations and the descriptions of their surroundings it was quite dry, but when it went into the questions the protagonist is faced with as well as some of his deeper feelings it was more interesting. This was not a book where I felt really connected to the characters as they all felt like cutouts who were placed there in order to make this book seem like a story. I found for the most part I couldn't engage with the writing because as I said I found it all told in quite a dull way with depressing themes and a writing style that had a very depressing feel to it so this was not at all a happy book. In fact this whole story felt more like a presentation of questions, ideas and speculations put together in the attempt of making something more people would like to read which I thought was one of the things that made this book harder to get into and not so easy to concentrate on.
It took me longer than I thought to finish this book because it was very putdownable due to what I consider the boring way it was told and because I thought in the end, apart from the ideas, this was a rather pointless story where the end result is to be expected in a way.  I can see now that this was not supposed to be a book where we focus too much on an actual story, but one where we read the authors speculations and think about them after we've finished. I really wish I could have properly understood and immersed myself in this book because even I must give credit to the author for the questions raised here, but as I said I could not get involved with much of anything in this story and strongly wish I could because philosophy is one of my favourite subjects and normally I love these types of books, but this just wasn't one of those books that clicked for me 😛 I think I will read more from this author as I see he really likes these types of questions and subjects and I can see other people have said his previous works are better… sometime in the future I'll try.
Who I'd recommend this for
I guess if you like a similar confusing style of writing like that of Fight Club this would be for you, also if you don't mind depressing narratives and books that are more like reading speculative articles into being human and death than actual stories, then this would be perfect too. It's not a bad book and maybe I'll try it again one day but this time I felt the whole thing lacked colour and interest so you have been warned.