The Friday 56 is hosted by Freda's Voice and asks you to turn to page 56 (or 56% in your e reader) of your book (any book) and share a sentence or two that doesn't have spoilers.
Book Beginnings is hosted by Rose City Reader and is about sharing the first sentence or so of the book you're currently reading.
Zero K by Don DeLillo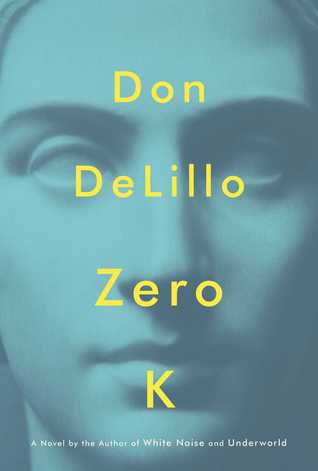 The wisest, richest, funniest, and most moving novel in years from Don DeLillo, one of the great American novelists of our time—an ode to language, at the heart of our humanity, a meditation on death, and an embrace of life.
Jeffrey Lockhart's father, Ross, is a billionaire in his sixties, with a younger wife, Artis Martineau, whose health is failing. Ross is the primary investor in a remote and secret compound where death is exquisitely controlled and bodies are preserved until a future time when biomedical advances and new technologies can return them to a life of transcendent promise. Jeff joins Ross and Artis at the compound to say "an uncertain farewell" to her as she surrenders her body.
"We are born without choosing to be. Should we have to die in the same manner? Isn't it a human glory to refuse to accept a certain fate?"
These are the questions that haunt the novel and its memorable characters, and it is Ross Lockhart, most particularly, who feels a deep need to enter another dimension and awake to a new world. For his son, this is indefensible. Jeff, the book's narrator, is committed to living, to experiencing "the mingled astonishments of our time, here, on earth."
Don DeLillo's seductive, spectacularly observed and brilliant new novel weighs the darkness of the world—terrorism, floods, fires, famine, plague—against the beauty and humanity of everyday life; love, awe, "the intimate touch of earth and sun."
Book beginning
Everybody wants to own the end of the world.
This is what my father said. standing by the controlled windows in his New York office- private wealth management, dynasty trusts, emerging markets. We were sharing a rare point in time, contemplative, and the moment was made complete by his vintage sunglasses, bringing the night indoors.
Page 56
The room in the long empty hall. The chair, the bed, the bare walls, the low ceiling. Sitting in the room and then wandering the halls I could feel myself lapsing into my smallest self, all the vainglorious ideas around me shrunk into personal reverie because what am I in this place but someone in need of self-defence.
Thoughts
This is another case of where I have literally only just finished one book and then only just started another, meaning I haven't got far enough into this book to form an opinion. I picked this up at the college library after reading the description as I have always been into philosophical induced stories and this hints in that direction. The reviews for this on GR don't seem to be that good and some have said this is no more than a religious type ramble. Myself I probably never would have even heard of this book if I hadn't seen it there in my college library 😛 Despite the mixed reviews from the GR community and friends I have no idea whether I'll like this or not. The ideas behind the plot suggest I will enjoy it, but even though I've only read a few pages I feel the writing style is a bit strange and will take some getting used to, but hopefully it will prove to be strange and different in a good way as the story moves along 🙂