Top Ten Tuesday was created by The Broke and the Bookish in June 2010 but was moved to That Artsy Reader Girl come January 2018. It was made through the love of lists, books and to bring readers together.
First let me start by saying the books I'm going to feature here are books that I bought with money gifted to me by family members over the recent past, thus the reason I am thankful for them. I have spent a small fortune on books with my own money too but I can say for sure I have spent nearly all of my gift money on books whether they be physical or ebooks, but have I read them? That's a different matter since I have such a cluttered library TBR at home and can't seem to stop adding to it this means I never seem to have the time for the books I buy 😛 Some might be wondering why I'm grateful for these books if I haven't read them, it's because they're books that have really called out to me mostly because of their cultural backgrounds and inspirations. There's also the fact that my library couldn't get some of these in so it was nice to buy them for myself and savour them always giving me something to look forward to.
I will read these books one day that's for sure but for now here are a few books I've bought with gifted vouchers that I am very grateful for as a lot of them my library couldn't get in 😉
City of a Thousand Dolls by Miriam Forster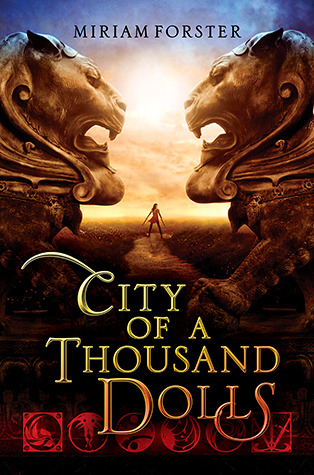 This series has been described as an exotic treat which I totally believe on looking at that cover. I also came across the fact that it's based on various Asian cultures and has strong world building which will always make me like the book more, to me world history in fantasy novels is more or less everything 😛 . The reviews for this seem to be very mixed from what I see, but I can't imagine not liking this, it had sat on my wishlist for a very long time…
---
Prophecy by Ellen Oh
From what I've read of other reviews this book is too short to be a spectacular fantasy as many others have said it was very rushed. I bought this whole series with gift money and hope to take this book with me on my trip in December, and also hope the cultural sides of this book will outweigh the short length and all the bad things other reviewers describe (I'm a sucker for well portrayed cultures in books).
---
Harry Potter and the Philosopher's Stone by J.K. Rowling
I know we read this book (though I don't think we finished it) in class when I was in primary school a very long time ago but regret to say I practically remember nothing. I was gifted with this series a few years ago and many people have told me I'm not worthy of the term "fantasy lover" until I have at least (properly) tried these. I know I don't need to ask whether these books are good or not, I just need the time to clear my over cluttered library TBR and read them 😛
---
Silver Phoenix by Cindy Pon
Another one that I'd been staring and drooling at for a very long time. Luckily I managed to get a cheap offer for this book and the next which means I called upon my trusted vouchers once again! I don't know when I'll read this but it's another one of those books for me, where I have to have the right place and time to read it (I'm complicated I know).
---
Daughter of Xanadu by Dori Jones Yang
It was so hard for me to come across a good price for this book as they kept changing but in the end I managed to find a new copy that wasn't too pricey. This is once again another book where I have to wait for the right time to read but it is definitely a much anticipated read because of the unusual setting and the amount of research I found the author had done to write this book. I have the second book bought as well so the time to read these cannot come soon enough 😉
So I would like to thank my fabulous family members for gifting me with these amazing (I'm sure they are) books or the vouchers with which to buy them! Also thanks to anyone for reading this far, which books are you grateful for? 🙂