Top Ten Tuesday was created by The Broke and the Bookish in June 2010 but was moved to That Artsy Reader Girl come January 2018. It was made through the love of lists, books and to bring readers together.
Long books… It has many people I know refusing to read the book if it's too long, but for me I find I'm more drawn to long books! Longer books definitely pull me towards them more because I like it when there's more story in the world I'll be visiting and I feel we get to know the characters better if there are more pages. Also if it's fantasy, I like the world building and world descriptions to be more detailed, fully immersing the reader in the plot, so with these types of books the more pages the merrier I guess! Here are the longer than most books that are currently sitting on my TBR 🙂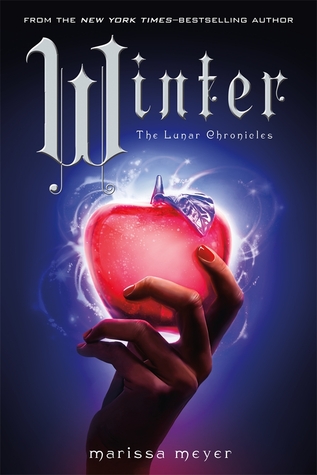 Priestess of the White by Trudi Canavan
Recently checked this out from the college library and no, I don't know when I'll read it but it does sound like the type of book that is intriguing or at least I hope it will be.
---
Winter by Marissa Meyer 
Judging from the other reviews, this book seems to have the perfect ending to the Lunar Chronicles series and even though it is a long book, other reviews have said it is full of action and romance. From what I've read of this series so far I find that easy to believe and this is an author I definitely will be reading more of 🙂
---
Black Wolves by Kate Elliott 
This Asian inspired fantasy has been on my TBR so long I wonder why I haven't read it yet on one of my trips. I know from reading this author's Cold Magic that she writes in a very detailed yet heavy-handed way that cannot be rushed and needs to be savoured. Now I know I just need to find the right times to read more of her books…
---
A Game of Thrones by George R.R. Martin
I've been wanting to read this since 2015 when the library didn't check out my copy properly (it never appeared on the online list of books I had out) and I just left it at home gathering dust. Now I've made it a goal to read it, well, as soon as possible really 😛 I've just had so many books from my libraries recently but at the end of this year I will make time, she says in such a determined voice.
---
The Pillars of the Earth by Ken Follett 
I know this is on my recent TBR as I've seen it in my college library, but I'm not so sure I'll be able to read this before June next year when I finish this course. As I've said on many occasions I have a massive TBR from both the public and college libraries that I'm only slowly whittling away at. I am drawn to this though so I guess we'll see.
---
Outlander by Diana Gabaldon 
From what I've heard, this series is so well researched that it's stunningly vivid in its descriptions and characters and it's full of intrigue and action, despite its length. I have this book and the next out from my library at the moment and still don't know when I'll have the time to read them 😛 My support worker has said this series is definitely worth it and that she'd give them 6 stars if she could hopefully the feeling will be mutual when I eventually get around to these books 😉
Do you read long books? Which long books have you read or are currently on your TBR? 🙂