Top 5 Wednesday is a weekly meme created by gingerreadslainey and now it is hosted by Thoughts on Tomes .  If you are interested in taking part in T5W visit the Goodreads group.
At the moment my favourite types of books are those with some sort of magic involved, in fact at the moment that'd pretty much all I read 😉 Despite me being a strong lover of books, I don't find it easy to remember specific ones at the top of my head, but these 5 magic systems are the most memorable, beautifully written and well realised fantasies that I will always remember 🙂
Spiritwalker series by Kate Elliott
This is a very complex world where the spirit world is known as common knowledge and intersects the material world. There was a lot of info-dumping but the world was exquisitely detailed and the characters well realised. I would definitely recommend this to those who would like to read a detailed type of fantasy that makes one think.
---
Akata Witch series by Nnedi Okorafor 
This book was full of wonder when it came to African culture and mythology. I loved the characters but also liked how the author managed to create an immensely detailed world with interesting magic that remains hidden from the rest of the world. I basically love all cultural fantasies anyway so…
---
Chronicles of Ancient Darkness by Michelle Paver 
Full of lush descriptions of nature and the spirits and forces of nature which are very much alive, this made one hell of an exciting read. These books are full of natural magic and mysticism and it was all really well fleshed out which leaves me wondering why there are any haters for this series
Definitely recommended for all ages!
---
House of Night series by P.C. and Kristin Cast 
When I first read this I was mostly taken in by the witchcraft style magic surrounding the vampyres and their culture revolving around the elements and Nyx (night personified). While the characters at first weren't the best, it was the mythology that comes mostly later that had me liking these books. 🙂
---
A Thousand Nights by E.K. Johnston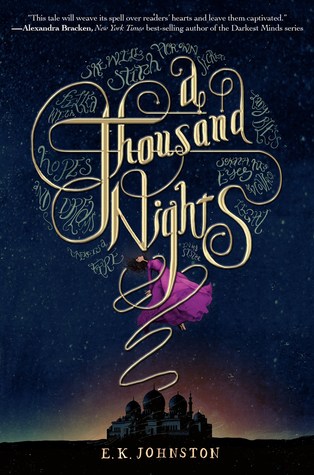 This has to be the most magical book of them all! I know I know I keep featuring this book but trust me when I say it is TRULY magical. Everything from the setting to the language was full of intrigue and the MC was able to conjure powerful magic from telling lush stories which made a truly remarkably well crafted story and one of my most favourite magic systems of all time 😀 Trust me and just read it, you won't be sorry 😉
There's my list! Have you read any of these books? What are your favourite magic systems? 🙂