Diversity Spotlight Thursday is meme hosted weekly at Bookshelves and Paperbacks and aims to highlight diverse reads of any kind.
Diversity Spotlight will take place every Thursday, and it will be featuring three books in any given week:
A diverse book you have read and enjoyed
A diverse book that has already been released but you have not read
A diverse book that has not yet been released
This week's theme is books with a Japanese setting!
What I have read
On the heels of a family tragedy, the last thing Katie Greene wants to do is move halfway across the world. Stuck with her aunt in Shizuoka, Japan, Katie feels lost. Alone. She doesn't know the language, she can barely hold a pair of chopsticks, and she can't seem to get the hang of taking her shoes off whenever she enters a building.
Then there's gorgeous but aloof Tomohiro, star of the school's kendo team. How did he really get the scar on his arm? Katie isn't prepared for the answer. But when she sees the things he draws start moving, there's no denying the truth: Tomo has a connection to the ancient gods of Japan, and being near Katie is causing his abilities to spiral out of control. If the wrong people notice, they'll both be targets.
Katie never wanted to move to Japan—now she may not make it out of the country alive.
---
This was quite a good book to read whilst on a visit to Japan (obviously) and it did have quite a decent storyline with intriguing mythology and a wonderful description of the culture. I can see why others wouldn't like this book though as the outcome was a little strange… but at the same time I really look forward to seeing where the author will take things in further books.
On my TBR
Only one woman can save her world from barbarian invasion but to do so will mean sacrificing everything she holds dear — love, loyalty and maybe life itself . . .
Japan, and the year is 1853. Growing up among the samurai of the Satsuma Clan, in Japan's deep south, the fiery, beautiful and headstrong Okatsu has – like all the clan's women – been encouraged to be bold, taught to wield the halberd, and to ride a horse.
But when she is just seventeen, four black ships appear. Bristling with cannon and manned by strangers who to the Japanese eyes are barbarians, their appearance threatens Japan's very existence. And turns Okatsu's world upside down.
Chosen by her feudal lord, she has been given a very special role to play. Given a new name — Princess Atsu — and a new destiny, she is the only one who can save the realm. Her journey takes her to Edo Castle, a place so secret that it cannot be marked on any map. There, sequestered in the Women's Palace – home to three thousand women, and where only one man may enter: the shogun – she seems doomed to live out her days. But beneath the palace's immaculate facade, there are whispers of murders and ghosts. It is here that Atsu must complete her mission and discover one last secret – the secret of the man whose fate is irrevocably linked to hers: the shogun himself . . .
---
I've been seeing books by this author pop up around quite a few libraries in my area in the historical sections, and I was first drawn to them because a majority of the historical fiction I see is Western based. I've also read a lot of positive reviews for this author's work and strongly look forward for an opportunity to (if one will ever come) to read these books whilst abroad 😛 sounds so so good though…
Soon to be released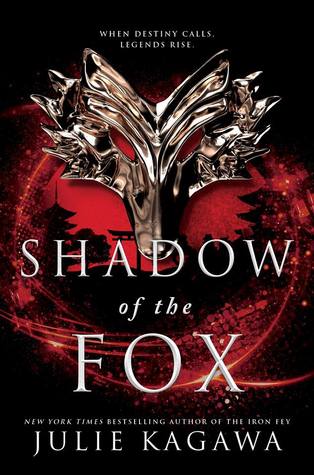 One thousand years ago, the great Kami Dragon was summoned to grant a single terrible wish—and the land of Iwagoto was plunged into an age of darkness and chaos.
Now, for whoever holds the Scroll of a Thousand Prayers, a new wish will be granted. A new age is about to dawn.
Raised by monks in the isolated Silent Winds temple, Yumeko has trained all her life to hide her yokai nature. Half kitsune, half human, her skill with illusion is matched only by her penchant for mischief. Until the day her home is burned to the ground, her adoptive family is brutally slain and she is forced to flee for her life with the temple's greatest treasure—one part of the ancient scroll.
There are many who would claim the dragon's wish for their own. Kage Tatsumi, a mysterious samurai of the Shadow Clan, is one such hunter, under orders to retrieve the scroll…at any cost. Fate brings Kage and Yumeko together. With a promise to lead him to the scroll, an uneasy alliance is formed, offering Yumeko her best hope for survival. But he seeks what she has hidden away, and her deception could ultimately tear them both apart.
With an army of demons at her heels and the unlikeliest of allies at her side, Yumeko's secrets are more than a matter of life or death. They are the key to the fate of the world itself.
---
Another one with many good reviews and an interesting premise and cover! Oh how I wish I could travel more often as reading that description alone is giving me wanderlust for Japan, a country my whole family has been to and enjoyed. Just reading that description I know that this book is going to be packed with cultural references and mythology all of which is a massive win 🙂 I also notice many say good things about this author and while I have yet to read from her (I certainly plan on reading all her books), a lot of her books sound extremely creative and original and this one (from the description) only promises to add to that pile 🙂
Have you read any of these books? What diverse books do you look forward to reading? 🙂