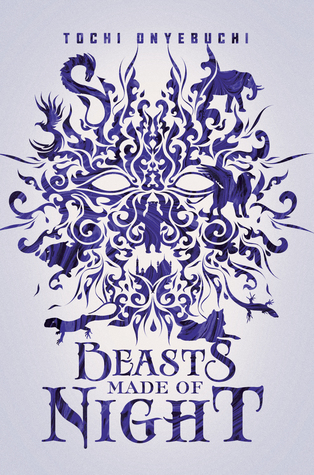 Release Date:
 October 31st 2017
Genres: 
Mythology, High fantasy, Young Adult
Series:
Beasts Made of Night #1
Description
In the walled city of Kos, corrupt mages can magically call forth sin from a sinner in the form of sin-beasts – lethal creatures spawned from feelings of guilt. 
Taj is the most talented of the aki, young sin-eaters indentured by the mages to slay the sin-beasts. But Taj's livelihood comes at a terrible cost. When he kills a sin-beast, a tattoo of the beast appears on his skin while the guilt of committing the sin appears on his mind. Most aki are driven mad by the process, but 17-year-old Taj is cocky and desperate to provide for his family. 
When Taj is called to eat a sin of a royal, he's suddenly thrust into the center of a dark conspiracy to destroy Kos. Now Taj must fight to save the princess that he loves – and his own life. 
A gritty Nigerian-influenced fantasy.
From Goodreads
The review
I think it's obvious to say that the description of a "Nigerian-influenced fantasy" had me completely sold since the moment I laid eyes on this book. Then there was my upcoming trip to Africa so I just HAD to get my hands on a copy and I wasn't at all disappointed.
The concept of sins being eaten I have seen before in the Sin Eaters Daughter which was an ok YA book but I liked more how this one felt more authentic in terms of culture and settings. There were many negative and DNF reviews around this book and it doesn't have a high general rating, but for me this was a breath of fresh air in the diverse fantasy genres.
So as I said the concept of eating sins I have seen before but here the portrayal of the sin beasts and the aki who kill and eat them was done really well. The descriptions of the life of the aki and the culture of the city around them was described with beautiful writing and rich detail. Our main character Taj was someone I could emphasise with all through the book as he was very well-developed and easy to imagine. He was also a very fun and entertaining character who was strong and not afraid to stand up for what he believes is right. Many have said this book is too dense and slow for them but I got through it quite quickly as I found everything so rich and lavishly described it was hard for me to put it down. 😛
Even though I struggle to see why so many others found this book boring, I can still see why some might dislike the plot as it was quite a strange story in the end with a lot of things not making sense. There were also holes in the world building I thought, as I had many questions regarding the sin beasts, religion and the world outside Kos that still remained unanswered even at the end. The motives of the other characters were also not really clear at the end and it does make me wonder where the author is going to take things in the next book… but I really can't wait to find out! 😀
In the end despite the strangeness of the plot and some things not making sense, this was a very well described book with an excellent magic system, characters and world. The writing was very fulfilling and suspenseful making this book with all the intrigue and mystery of the story near impossible for me to put down. But yeah, this is a strange one really and I hope some more of the questions raised in this book will be answered in a way in the next book. But how much I loved reading about the shadow sin beasts in all their shapes…
Definitely recommended…. but why does this have to end on such a cliffhanger??
Who I'd recommend this for
I'd say if you like rich detail in books and don't always expect fast pace in your fantasies then this is a must, but if you're always expecting action and fast pace then perhaps this isn't your cup of tea. Also be prepared to be a little confused about what happens in the end and the characters motives as this is not your usual fantasy at all,