Top Ten Tuesday was created by The Broke and the Bookish in June 2010 but was moved to That Artsy Reader Girl come January 2018. It was made through the love of lists, books and to bring readers together.
OMG I LOVE this topic! 😀 Those who have known me for a while will know that some of my all time favourite things to do in life is to combine reading with travel, two things I have always loved. Whenever I go somewhere I make sure I take books with me that are either set in that area or a similar/close by environment. It totally works too, it brings the setting both in the book to life more as well as makes me immerse myself more in my surrounding environment. Just thinking of travelling to a place and reading the diverse books set there fills me with joy and reading the descriptions of these type of culturally inspired books I would say definitely awakens the travel bug in me! 🙂 In fact if I'm being completely honest I always have wanderlust especially if I'm in a very boring situation lol 😛 😛
Here are ten books that I have read or are on my TBR that just thinking about them and reading their descriptions gives me wanderlust overload 🙂 😉
Akata Witch by Nnedi Okorafor 
I am so excited to read this, especially with Namibia coming up but this book has been labelled the Nigerian Harry Potter filled with magic and mythology. Many have also said they like the plot and characters and for me the setting in itself is perfect for reading if travelling in Africa.
---
Carpentaria by Alexis Wright
If I'm being perfectly honest I'm a little unsure about this one. It gives me wanderlust for Australia because others say it gives light to the indigenous peoples of the Australian outback, but I guess reading it is the only way to see if its my kind of book 😛
---
Guardian of the Dead by Karen Healey 
I own this book and not only that but it's based on Maori mythology eeek! 😀 Oh I so wish there would be more books written in these settings …
---
The Windup Girl by Paolo Bacigalupi 
Read this whilst in Thailand where its set and it totally delivered bringing the setting to life as well as the culture. I loved this book so much every time I think of it it reminds me of Asia (even though it's not really a happy book).
---
Ink by Amanda Sun 
Set in Japan but also read in Japan! It is one of my favourite places to visit in Asia because it is so different and this book captured the culture extremely well! It's not one of the best books of this type I've read but I still liked the mythology and culture involved.
---
Daughter of the Flames by Zoe Marriott 
There's not a lot I know about this one only that it has an awesome sounding premise which hints at exotic locations and cultures… If I ever go to Asia again 🙂
---
Kingdom of Sleep by E.K. Johnston 
I loved reading A Thousand Nights last year on my trip to Bali and I'm even more thrilled to see my library has this book too. Yep, even now A Thousand Nights gives me strong longings for exotic locations.
---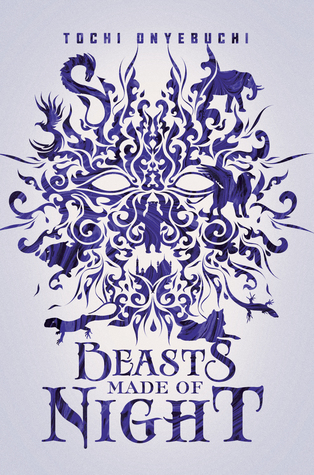 Beasts Made of Night by Tochi Onyebuchi 
Another one for my reading list in Namibia! This one also has many mixed reviews but some people say the writing style is very rich, which kind of makes me think of A Thousand Nights even though I know this book has a Nigerian inspired setting.
---
City of the Beasts by Isabel Allende 
I've had this book sitting in my house for years now 😮 The reason being I'm looking for the right time and location to read it in. This book is set in the Amazon and while I can't see myself ever going on a jungle safari, it still reminds me of South America and gives me wanderlust for the Caribbean.. In fact I think this whole trilogy by this author is meant to be read abroad as they're all set in different locations…
---
Daughter of Smoke and Bone by Laini Taylor 
This one I remember DNFing a while back due to boredom, but I just think I went into it with the wrong attitude or I wasn't in a good place back then or something 😛 Either way I've decided to give this series a second chance if I ever take a trip to continental Europe particularly places with old towns (we can't go to Prague again because dad feels we've seen everything there when we went when I was young). Enough people like this series anyway so I just think I need to go into them with more patience (Plus despite not liking it I remember the descriptions of the setting being very vivid).
So there are the causes of my immense reading wanderlust! Have you read any of these? Which books awaken the travel bug in you? 🙂