This looks like the ideal tag for me. There are a lot of things to answer but from what I've seen it looks really fun! I saw this tag on Reading Every Night and I feel this would be a good reflection on myself as well as a chance for any readers to know a bit more about me 🙂 So there's a long way to go, so here we go!
1) What's your name?
Facebook name= Rosa
Blog name = Ambi 😉
2) Any nicknames or aliases?
Well when I was young I used to always be called Porntip which is my middle name and I HATE it 😛 But other than that no one ever calls me by nicknames these days.
3) Your gender?
Female
4) Your star sign?
Virgo
5) How old are you?
22
6) Your relationship status?
Single
7) Any children?
Nope and so far I hope it stays like that.
8) Any pets?
3 cats and 2 goldfish. Here's a picture of our younger two cats when they were kittens
And here's a picture of our older cat Mr J (even though he's still pretty athletic)
9) Any tattoos or piercings?
Only the general single ear-piercing in each ear.
10 What do you like about yourself?
I have been told I'm quite a grounded person and I like the fact that I seem to understand other people's feelings more these days. I'm also very soft-hearted especially with animals and I just feel that I have a happier outlook on life especially after my depression during my later teens. My big imagination has always been a big part of my life and despite everything I must say I like all the characters I think of very much 🙂
11) What do you dislike about yourself?
Mostly the fact that I'm easily depressed and am very sensitive to negative emotions in other people particularly my parents. I can be quite unsympathetic when my parents are feeling negative and I also cry quite easily. I also lack a lot of confidence so have always wished I could speak up more and share my opinions more, like my peers. I'll add that all my life I've hated being autistic, but now have kind of made peace with it.
12) Righty or lefty?
Righty
---
Lasts
13) The last thing you drank:
Semi-skimmed milk
14) The last thing you ate:
Tuna mayo jacket potato. Yeah I have this for breakfast when I'm going to college, it's very strange I know…
15) Your last phone call:
I think this was when my support worker ringed me about when we were meeting up.
16) Your last text message:
Once again to my support worker about when we were meeting up
17) Your last email:
This is probably something with college and college assignments as I think it's been forever since I last sent a personal email…
18) The last song you listened to:
Schiller feat. September – Breathe for some reason when I'm moving to this song it reminds me of my characters in the distant past… don't ask why, I don't know 😛
19) The last book you read:
The last book I actually read and finished was IT by Stephen King and yes I would recommend it and no, it still didn't scare me 😉 Don't think I want to watch the movies though…
20) The last time you cried:
I'm not boasting when I say that was quite a few months ago 😮 So far life is okay and I hope to maintain this good relationship with my parents and I think I last cried in March or was it February? 😛
21) The last blog you read:
This is still  Reading Every Night as I've been recently looking at their reviews and that, but really I look at a lot of blogs for mostly inspiration and to see how others do things as still I am new to the book blogging world 😛
22) The last person you spoke to:
This will be the learning support assistant in the class (I'm in college) and I talk to her quite a bit about life and the general everyday things. Today was no exception.
23) The last place you visited:
That would have to be Colwyn Bay by the coast as we went there to have breakfast in a nice pub I've been going to since I was small (Wetherspoons). Lol, we go to Wetherspoons nearly every week when we do our weekly grocery shop.
24) Your last holiday abroad:
Amsterdam. My family and I went there on an overnight ferry in February and it was amazing 😀 Here are some snapshots
Your Beliefs and Opinions
49) Do you believe in aliens?
Without a doubt. There is just so much more to this universe than what we see and know not to mention the tons of evidence..
50) Do you believe in miracles?
I think I do because sometimes good things or impossible things have happened which no one can explain. I guess it also depends on how you define miracle.
51) Do you believe in the power of positive thinking?
I kind of do, even though I might not think very positively myself, I do believe that if you can remain positive and look at everything positively things work out better or at least you feel they do.
52) Do you believe in love at first sight?
Yes and no, as I have come across many stories of love at first sight but at the same time I believe a lasting relationship has to be built up.
53) Can money make you happy?
For me I think it can. I mean it's not everything but it would definitely help with happiness as then I could travel more and that's one of my favourite things to do 😉
54) Would you describe yourself as a feminist?
I think so because I definitely believe in the equality of the genders and it makes me so mad that so many women in so many places are afraid of going out alone at night or at any time of the day…
55) Are you pro-life or pro-choice?
Definitely pro-choice. I think this is a basic human right.
56) Do you have strong political beliefs?
Nope, I hardly ever pay attention to politics.
57) Do you have strong religious beliefs?
Not really as I'm agnostic so I'm open to all arguments.
58) What do you think the most important thing you can give a child is?
Security and love, these are the two most important things I think all children deserve and should get as a right.
Right Now
59) Are you eating anything right now?
Nope it's a long stretch to lunch and I still don't know what I'll have even then 😉
60) Are you drinking anything right now?
Lucozade Zero Orange flavour, I have to drink less sugar for my health and these are quite nice, but I do miss the originals…
61) What are you listening to right now?
All time favourite song 😀
62) What are you thinking about right now?
Some of my characters and my college library books.
63) What are you waiting for right now?
Not much, only lunch and to go home and catch up with some serious reading! 😛
64) What are you most excited about right now?
My upcoming trip to Namibia 😀 I just need to go shopping for some suitable clothes to wear there and mum said we could do some shopping this weekend.
65) What's your pet peeve right now?
The fact that I have ordered some amazing African inspired fantasies for my upcoming trip and other people from the library have been placing requests for them. I know, I know, the library is for everyone not just for me but a selfish part of me always gets angry when someone else requests a book I have out. I hope they return this particular book before I go away though.. 😛
66) What's your favourite thing right now?
My chrome book because it so far is fast and efficient and I love going online in my spare time. My iPad is also following close behind.
67) If you weren't answering these questions, what would you be doing right now?
I don't know, I've finished all my college work and have only come in to sort out my college library books so what would I do with this time? Maybe I'd just be scrolling through social media and looking at new books lol 🙂
---
Firsts
68) Your first best friend:
My first best friend was a girl my age named Keelie and we always got up to mischief and were always separated by our teachers for talking too much 😛 Good times…
74) Your first job:
Believe it or not but I've never had a paid job ever 😮 😮
75) Your first childhood memory:
I was an infant and I remember being with mum and dad in a car place and they were buying a new car. My memory was the person at the counter gave dad the wrong keys then gave the right ones. My grandmother says I was one when this happened 😮 lol
Which Would You Choose
76) Love or money?
Love
77) Twitter or Facebook?
Facebook
78) Hook up or relationship?
Relationship
79) Dogs or cats?
Cats but I really like dogs and other animals too 🙂
80) Coffee or tea?
Tea
81) Beer or wine?
I don't really like either but if that blue wine called Gik was involved then it would definitely be wine 😉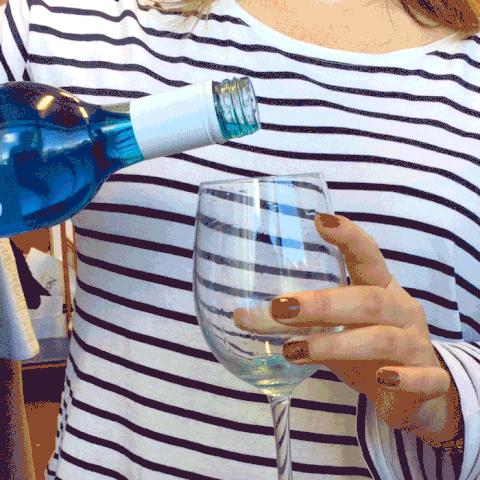 82) Sweet or savoury?
Oooh tough one… for food I'd say savoury
83) Introvert or extrovert?
Introvert
84) Vampires or werewolves?
Haven't read much about werewolves but I'd say I slightly prefer them more than vampires, only slightly as I love all types of paranormal books.
85) Seaside or countryside?
Seaside
86) Summer or winter?
I can't decide! I love both! But perhaps summer a little more as I like sitting out in the sunshine and going for walks.
87) Books or movies?
Books
88) Horror or comedy
Another one where I love both for books (not films) but perhaps I'd choose comedy this time for a change as I haven't read a lot of comedy..
---
A Few Random Questions to Finish Up On
89) Do you wish you could change your past?
There are many occasions where I'd want to change the decisions I made but one of my biggest regrets is not staying in mainstream school to do my GCSE's because at the moment I have none. I was unaware at the time that I was destroying my own future by being expelled from school for doing graffiti, but if I could alter the past that's what I'd change.
90) What's your dream job?
Librarian, and that's what I'm aiming to be as I think it would be the only job I could do and love 😛
91) What's your guilty pleasure?
Battered fish, french fries and cheese and onion fry-it's… mmmm.. but to be healthier my parents and support workers are stopping me from getting them, awww!!
92) What are you afraid of?
Oh a lot of things… spiders, heights, falling, the dark, pain, needles and wasps to say a few 😛
93) What was the first thing you wanted to be when you grew up?
I think I only had my mind set on being a fairy LOL 😂 😂 😂
94) If you could have any super power, what would it be?
I think I'd like to be able to astrally project at will and send myself into deep trances at will but apart from that I'd like to have like a ghost power where I could walk through stuff and be invisible at will 😉
95) If you could change anything about your life what would it be?
I'd like to have stronger willpower especially when it comes to food and I'd like to have a more positive outlook on life.
96) Would you want immortality?
I don't know, I would like to see the future and what happens to us and the world, but at the same time I can understand how as mum says life is meant to be a struggle so honestly I don't know…
97) If you could interview anyone alive or dead who would you choose?
Stephen Hawking without a doubt, he came up with the most brilliant theories that inspired many of my imaginings. R.I.P and be one with the stars. 😦
98) Would you say you are happy?
Yes, at the moment….
99) What one piece of advice would you give to yourself at age eighteen?
To exercise more and take this slimming thing more seriously, also maybe to ground myself more and emphasise more with my parents and other people.
100) Where would you like to be in five years' time?
I hope to be working in the library some time in the future but first I would need to study and get this library volunteering thing started. It seems to have reached a stand still and doesn't look like it can be sorted until I'm back from Namibia.. Also I think I'd like to have written many of my story ideas down by then because for some reason my support worker seems to think they have a potential to be taken further… I'm not sure though, but she says I'm simply "not ready" presently… 😛
So those are my answers! This was so much fun as predicted! Also I don't know where some of the missing questions went as I searched around and couldn't find them and it seems other bloggers have too… 😛 What would you answers to these questions be? 🙂