The Friday 56 is hosted by Freda's Voice and asks you to turn to page 56 (or 56% in your e reader) of your book (any book) and share a sentence or two that doesn't have spoilers.
Book Beginnings is hosted by Rose City Reader and is about sharing the first sentence or so of the book you're currently reading.
The Mark of Athena by Rick Riordan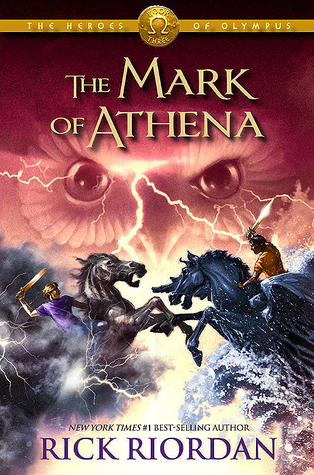 Annabeth is terrified. Just when she's about to be reunited with Percy—after six months of being apart, thanks to Hera—it looks like Camp Jupiter is preparing for war. As Annabeth and her friends Jason, Piper, and Leo fly in on the Argo II, she can't blame the Roman demigods for thinking the ship is a Greek weapon. With its steaming bronze dragon figurehead, Leo's fantastical creation doesn't appear friendly. Annabeth hopes that the sight of their praetor Jason on deck will reassure the Romans that the visitors from Camp Half-Blood are coming in peace.
And that's only one of her worries. In her pocket, Annabeth carries a gift from her mother that came with an unnerving command: Follow the Mark of Athena. Avenge me. Annabeth already feels weighed down by the prophecy that will send seven demigods on a quest to find—and close—the Doors of Death. What more does Athena want from her?
Annabeth's biggest fear, though, is that Percy might have changed. What if he's now attached to Roman ways? Does he still need his old friends? As the daughter of the goddess of war and wisdom, Annabeth knows she was born to be a leader—but never again does she want to be without Seaweed Brian by her side
Narrated by four different demigods, The Mark of Athena is an unforgettable journey across land and sea to Rome, where important discoveries, surprising sacrifices, and unspeakable horrors await. Climb aboard the Argo II, if you dare. . .
From Goodreads
---
Book beginning 
Until she met the exploding statue, Annabeth thought she was prepared for anything.
She'd paced the deck of their flying warship, the Argo II, checking and double-checking the ballistae to make sure they were locked down. She confirmed that the white "We come in peace" flag was flying from the mast. She'd reviewed the plan with the rest of the crew- and the backup plan, and the backup plan for the backup plan.
Page 56
"Hang on, Coach!"he shouted "This is going to hurt."
"I was born for hurt!"
WHOOM! A swell of salt water washed over the bow, dousing Coach Hedge. The Argo II listed dangerously to starboard, then righted itself and rocked on the surface of the lake. Machinery hummed as the aerial blades that were still working changed to nautical form.
The banks of robotic oars dipped into the water and began moving them forward.
Thoughts
So far I have failed to be thoroughly impressed by this series. It has many good points, don't get me wrong, but in the past I couldn't stop comparing this to the previous PJ series. One friend on GR told me this was their favourite book in the series when a lot of people are saying the fourth book is the best one. I do know a lot of people have been saying there's quite a big cliffhanger ending with this one but luckily I have the last two books at hand 😉 So will this series get better? I sure hope so and it is looking good because now that the character introductions are done and the stakes are higher, it looks like there might be more plot driven action and more twists. This author does have a way of making us care about his characters and even though I didn't think the last two books were brilliant, I still do want to see what will happen in the end… 😛
Which book in this series was your favourite? 🙂