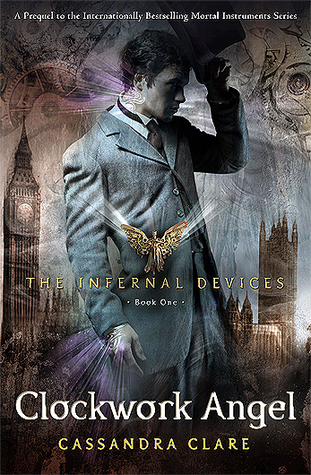 Release Date:
 August 31st 2010
Genres:
 Historical fiction, Young Adult, Fantasy
Series:
 The Infernal Devices #1
Description
The year is 1878. Tessa Gray descends into London's dark supernatural underworld in search of her missing brother. She soon discovers that her only allies are the demon-slaying Shadowhunters—including Will and Jem, the mysterious boys she is attracted to. Soon they find themselves up against the Pandemonium Club, a secret organization of vampires, demons, warlocks, and humans. Equipped with a magical army of unstoppable clockwork creatures, the Club is out to rule the British Empire, and only Tessa and her allies can stop them…
From Goodreads
The review
Well…. I'll say straight I didn't expect to take so long to finish this. While I must say I found I liked the characters from this series more, I found the plot quite slow and boring at times.
My first disappointment was the setting, which I didn't think was executed very well. Normally I love to get immersed in historical novels but here I found the historical setting was not described as well as I have seen in other historical books. It was clear from the start the author didn't put atmosphere as her number one priority when writing this book, instead the author focused almost entirely on the supernatural elements (I know this is a fantasy book but I do believe in also bringing the setting to life as well as the magic).
As I said, there were also many slow parts which made it hard for me to stay focused. These parts could have been made more exciting in many ways including a deeper exploration of the setting and time period. That's just my opinion *shrug*.
Anyway, enough about the setting, I think I like the characters in this book more than those of TMI series. This is mainly because I feel they're better fleshed out and their personalities explored more. Will and Jem were both very complex, detailed characters and the author did a really good job of creating them as well as the dynamics between them and Tessa. I know I should be annoyed that there is yet another love triangle but I do look forward to seeing what will become of them all.
Another thing I really liked was the twists and turns in the end and how not everyone's intentions are clear. This book was practically the opposite of predictable as I was caught off guard many times 😛 I mean Tessa's brother….. what will become of him I wonder?
So all in all a decent read with good twists, action, character development and ideas but just lacks excitement in some parts and the details of an antique era.
Who I'd recommend this for
I would recommend this to those who like urban fantasy but don't mind waiting till the end for things to really speed up. If you're wanting to read this because you like historical fantasies and like old settings then don't expect too much in terms of authenticity.