The Friday 56 is hosted by Freda's Voice and asks you to turn to page 56 (or 56% in your e reader) of your book (any book) and share a sentence or two that doesn't have spoilers.
Book Beginnings is hosted by Rose City Reader and is about sharing the first sentence or so of the book you're currently reading.
Clockwork Angel by Cassandra Clare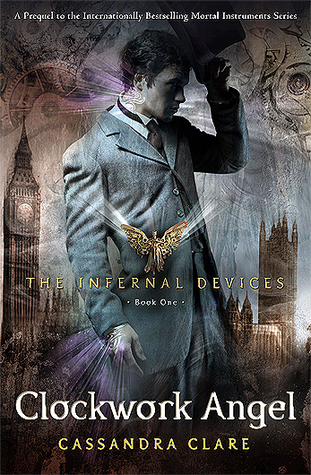 Summary: In a time when Shadowhunters are barely winning the fight against the forces of darkness, one battle will change the course of history forever. Welcome to the Infernal Devices trilogy, a stunning and dangerous prequel to the New York Timesbestselling Mortal Instruments series.
The year is 1878. Tessa Gray descends into London's dark supernatural underworld in search of her missing brother. She soon discovers that her only allies are the demon-slaying Shadowhunters—including Will and Jem, the mysterious boys she is attracted to. Soon they find themselves up against the Pandemonium Club, a secret organization of vampires, demons, warlocks, and humans. Equipped with a magical army of unstoppable clockwork creatures, the Club is out to rule the British Empire, and only Tessa and her allies can stop them…
From Goodreads
---
Book beginning
The demon exploded in a shower of ichor and guts.
William Herondale jerked back the dagger he was holding, but it was too late. The viscous acid of the demon's blood had already begun to eat away at the shining blade. He swore and tossed the weapon aside; it landed in a filthy puddle and commenced smouldering like a doused match. The demon itself, of course, had vanished-dispatched back to whatever hellish world it had come from, though not without leaving a mess behind.
 Page 56
Dark flung another sheet of lightning toward her. Why is she trying to kill me? Tessa thought dizzily. Why not Will? And then, as Henry pulled her toward him, more light sheared off Will's blade, refracting into a dozen blazing shards of brightness. For a moment Tessa stared, caught by the unlikely beauty of it- and then she heard Henry shout, telling her to drop to the floor, but it was too late.
Thoughts
So far this is a decent read. At the moment I'm not finding anything particularly overly special but a lot of people have preferred this series to TMI series. I'm still not halfway through yet so there's plenty of room for things to improve. One thing I will say is I'm finding the characters in this series easier to relate to and emphasise with than the other series. I don't know why, I also find I'm more intrigued in the whole mystery of Tessa's situation and look forward to unravelling it. For some reason I have been in a kind of slump with books recently, don't know why but I seem to be distracting myself with other things and my relationship with mum hasn't been that good recently either….
But I hope to have more books finished soon (for the library's sake) and I really hope Cassandra Clare's books will keep getting better and better when it comes to excitement… that's what everyone seems to say anyway 😉