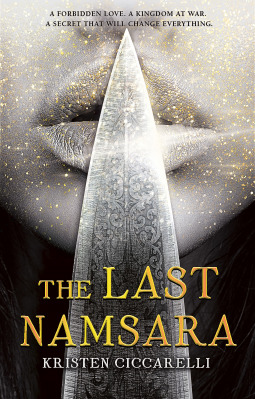 Author
: Kristen Ciccarelli
Release Date
: October 3rd 2017
Genres
: Young Adult, High fantasy
Description
In the beginning, there was the Namsara: the child of sky and spirit, who carried love and laughter wherever he went. But where there is light, there must be dark—and so there was also the Iskari. The child of blood and moonlight. The destroyer. The death bringer.
These are the legends that Asha, daughter of the king of Firgaard, has grown up hearing in hushed whispers, drawn to the forbidden figures of the past. But it isn't until she becomes the fiercest, most feared dragon slayer in the land that she takes on the role of the next Iskari—a lonely destiny that leaves her feeling more like a weapon than a girl.
Asha conquers each dragon and brings its head to the king, but no kill can free her from the shackles that await at home: her betrothal to the cruel commandant, a man who holds the truth about her nature in his palm. When she's offered the chance to gain her freedom in exchange for the life of the most powerful dragon in Firgaard, she finds that there may be more truth to the ancient stories than she ever could have expected. With the help of a secret friend—a slave boy from her betrothed's household—Asha must shed the layers of her Iskari bondage and open her heart to love, light, and a truth that has been kept from her.
From Goodreads
The review
This is one of those books that started off very strong but dragged on from the middle to the end. There was an unremarkable plot matched with unremarkable characters not to mention the "reveals" about Asha's past weren't hard to see coming.
I will give the author credit for the world building and pacing as these moved along nicely and set up the scene really well. I also liked the dark feel surrounding the whole plot but will add that I think there was a lot of wasted potential here.
Let's start with the characters, I could hardly ever emphasise with any of them and felt there was no chemistry in Asha and Torwin's relationship. I mean one minute she saw him as a mere slave the next they were swooning over each other 😛 there was just no build-up to that first kiss… The author did try to make a badass character out of Asha but she ended up just feeling average and nothing special. Well to me anyway. Torwin also had a lot of potential but once again he rather felt like a random man who had just been plucked off the street rather than an epic fantasy hero.
Then there were the dragons. Yeah, they for the most part acted like puppies rather than ferocious killers. I mean they were supposed to have been hunted to near extinction yet they immediately trust any human who can tell the old stories? Forgive me if I don't find this story or characters believable or easy to emphasise with.
Despite me not enjoying this as much as I thought I would, it could have been much worse. It could have been boring and slow-paced yet it wasn't and it could have featured insufferable characters but it didn't. Just unremarkable ones. I don't know whether I'll give the next book a go or not because I was a little relieved to finish this one yet I still am a little curious as to what is going to happen to Asha's world… Oh well 😛
Who I'd recommend this for
This book is for those who like good story-telling world building but don't mind un-special characters. It is also for any fantasy lover who doesn't mind predictable plot twists and tame dragons.
I received a free copy of this book via Netgalley in exchange for an honest review.