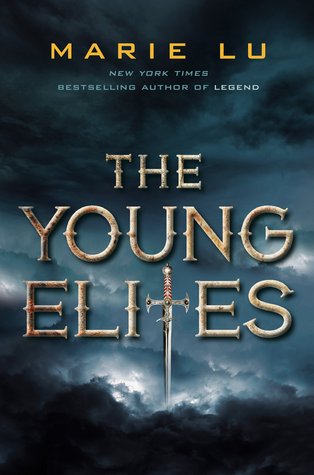 Release Date:
October 7th 2014
Genres:
Young Adult, High fantasy
Series:
The Young Elites #1
Description
I am tired of being used, hurt, and cast aside.
Adelina Amouteru is a survivor of the blood fever. A decade ago, the deadly illness swept through her nation. Most of the infected perished, while many of the children who survived were left with strange markings. Adelina's black hair turned silver, her lashes went pale, and now she has only a jagged scar where her left eye once was. Her cruel father believes she is a malfetto, an abomination, ruining their family's good name and standing in the way of their fortune. But some of the fever's survivors are rumored to possess more than just scars—they are believed to have mysterious and powerful gifts, and though their identities remain secret, they have come to be called the Young Elites.
Teren Santoro works for the king. As Leader of the Inquisition Axis, it is his job to seek out the Young Elites, to destroy them before they destroy the nation. He believes the Young Elites to be dangerous and vengeful, but it's Teren who may possess the darkest secret of all. 
Enzo Valenciano is a member of the Dagger Society. This secret sect of Young Elites seeks out others like them before the Inquisition Axis can. But when the Daggers find Adelina, they discover someone with powers like they've never seen. 
Adelina wants to believe Enzo is on her side, and that Teren is the true enemy. But the lives of these three will collide in unexpected ways, as each fights a very different and personal battle. But of one thing they are all certain: Adelina has abilities that shouldn't belong in this world. A vengeful blackness in her heart. And a desire to destroy all who dare to cross her.
It is my turn to use. My turn to hurt.
From Goodreads
The review
The hype for this book was huge back when it first came out, and quite frankly I cannot see what it was all about.
While I will admit the style of writing, action and pacing was good there was one hell of a lot of wasted potential here. For starters the world. There were descriptions of flying winged beasts not to mention the three moons in the sky which made me wonder if this was some sort of Sci-fi…
There wasn't any solid world building. None. Instead we just get thrown in without any guidance and expected to just emphasise with this world on our own. This may be a lot of other people's idea of good, it's not mine. I will also mention that one GR friend told me that world building isn't Marie Lu's thing and that I should just think this is the way she writes. Well I'll say this for myself, a book/series feels incomplete to me if the world is not introduced at some point.
Now for the badass characters. I totally get that this was intended to be dark and gritty and I will give the author credit for creating a grim environment and presenting us with a grim ending. In fact I will give credit to the author also for creating badass characters that actually felt real (because in so many other YA novels the characters are so badass it kind of drowns out their personality). I could totally emphasise with the MC throughout the book and could totally see she was in a hopeless situation… The love interest was also a character I could easily imagine but why did the author do that to him in the end?? He was a character with so much potential…
I felt the pacing in this book was also quite good as the story flowed along nicely and there was an ending that would make (most) YA readers definitely curious to what happens to these characters next.
Who I'd recommend this for:
This book is definitely for those who want a slightly different and darker than average YA novel but not if you're a fan of rich fantasy with a lot of deep magic and world history.