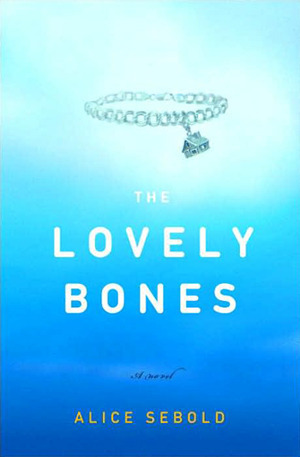 DNF
Release Date:
first published 2002
Genres
: Contemporary, Young Adult, Realistic fiction
Description
The Lovely Bones is the story of a family devastated by a gruesome murder — a murder recounted by the teenage victim. Upsetting, you say? Remarkably, first-time novelist Alice Sebold takes this difficult material and delivers a compelling and accomplished exploration of a fractured family's need for peace and closure.
The details of the crime are laid out in the first few pages: from her vantage point in heaven, Susie Salmon describes how she was confronted by the murderer one December afternoon on her way home from school. Lured into an underground hiding place, she was raped and killed. But what the reader knows, her family does not. Anxiously, we keep vigil with Susie, aching for her grieving family, desperate for the killer to be found and punished.
Sebold creates a heaven that's calm and comforting, a place whose residents can have whatever they enjoyed when they were alive — and then some. But Susie isn't ready to release her hold on life just yet, and she intensely watches her family and friends as they struggle to cope with a reality in which she is no longer a part. To her great credit, Sebold has shaped one of the most loving and sympathetic fathers in contemporary literature.
From Goodreads
The review
"Anxiously, we keep vigil with Susie, aching for her grieving family, desperate for the killer to be found and punished."

I was not kept vigil with Susie, I did not ache for her grieving family and I was not desperate for her killer to be found and punished. In fact I will say straight away that I felt nothing for this book only a little excitement at the well crafted murder scene at the beginning. Another thing I must add is the reason I picked this book up was because I've seen the trailer for the film on TV and wow did it look awesome…
… The trailer portrayed a thrilling story of mystery, psychological thriller and with a hint of paranormal. But reading the book wasn't nearly as exciting as watching the trailer and now that I've seen how boring the book is I don't know whether I want to watch the film.
So when did this book turn so boring I couldn't carry on? Pretty much straight after Susie's murder. Yep hardly anything happens in the first half of this book as we only basically get detailed descriptions of Susie's family grieving. There was no progress on the mystery of Susie's death and the pacing of things was slow as fuck. I will also add I felt nothing for any of the characters as they were so typical and it felt like there was nothing special about any of them. I must also say when I read the description, I was expecting some paranormal elements as the story is told from the point of view of a dead girl. But no, we get none of those anytime soon as it seemed the whole book was entirely about Susie's living family. But hey maybe I read the description wrong *shrug*.
So to sum it all up this was a boring, slow-paced, unremarkably written story about a mystery that has no suspense and takes a lot of page time to (I don't know whether this mystery does get solved or not or what happens in the end because I DNFed just after halfway it was so boring) if ever be solved. But I couldn't carry on, no I had completely lost interest in the story and characters that I didn't see why I had to push on 😛
Unless you like super slow-paced books, don't go for this one.
Who I'd recommend this for:
I suppose if you like really realistic fiction about people's daily lives then this is for you. Just don't expect any excitement any time soon and don't count on any paranormal elements to show up. I have warned you.