Waiting On Wednesday is a weekly meme hosted by
Breaking the Spine
which focuses on upcoming releases we're looking forward to.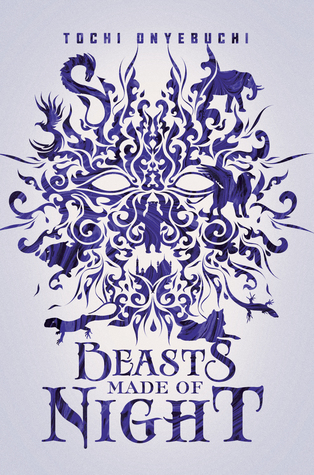 Title: Beasts Made of Night
Author: Tochi Onyebuchi
Release Date: October 31st 2017
Summary: In the walled city of Kos, corrupt mages can magically call forth sin from a sinner in the form of sin-beasts – lethal creatures spawned from feelings of guilt.
Taj is the most talented of the aki, young sin-eaters indentured by the mages to slay the sin-beasts. But Taj's livelihood comes at a terrible cost. When he kills a sin-beast, a tattoo of the beast appears on his skin while the guilt of committing the sin appears on his mind. Most aki are driven mad by the process, but 17-year-old Taj is cocky and desperate to provide for his family.
When Taj is called to eat a sin of a royal, he's suddenly thrust into the center of a dark conspiracy to destroy Kos. Now Taj must fight to save the princess that he loves – and his own life.
A gritty Nigerian-influenced fantasy.
Thoughts: When I first saw the term "A gritty Nigerian-influenced fantasy" I knew I had to have this book one way or another because, yes you got it its a cultural mythology influenced fantasy and they are my favourite types of fantasy. This one however has been influenced by African mythology which along with many other mythologies, gets overlooked often when authors look for mythology to base their fantasies on as Greek and Celtic mythology seems to be the number one for inspiration (well from what I've read anyway). I'm not saying I dislike those Greek based or Celtic based fantasies I just say it's really nice to have a change. And I will also say that while I understand why Greek mythology is so magnificent and awe-inspiring, it doesn't mean that other world mythologies can't shine just as brightly if not more… 😛
While the cultural background certainly stands out, the book's description itself is enough to get me hooked without having even turned the front page lol 😛 I've also read other good reviews for this book saying it has a unique, interesting type of world building mmm…… I think I need to read this book, like right now!  🙂
What unreleased books do you need right now?