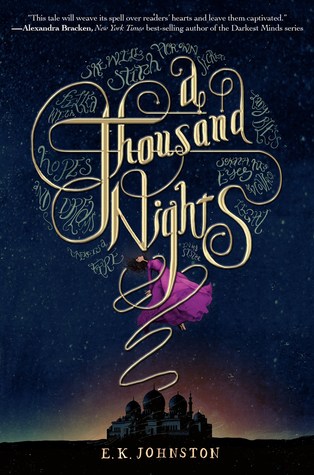 Release Date:
October 6th 2015
Genres:
High fantasy, Young Adult
Series:
A Thousand Nights #1
Description
Lo-Melkhiin killed three hundred girls before he came to her village, looking for a wife. When she sees the dust cloud on the horizon, she knows he has arrived. She knows he will want the loveliest girl: her sister. She vows she will not let her be next.
And so she is taken in her sister's place, and she believes death will soon follow. Lo-Melkhiin's court is a dangerous palace filled with pretty things: intricate statues with wretched eyes, exquisite threads to weave the most beautiful garments. She sees everything as if for the last time. But the first sun rises and sets, and she is not dead. Night after night, Lo-Melkhiin comes to her and listens to the stories she tells, and day after day she is awoken by the sunrise. Exploring the palace, she begins to unlock years of fear that have tormented and silenced a kingdom. Lo-Melkhiin was not always a cruel ruler. Something went wrong.
Far away, in their village, her sister is mourning. Through her pain, she calls upon the desert winds, conjuring a subtle unseen magic, and something besides death stirs the air.
Back at the palace, the words she speaks to Lo-Melkhiin every night are given a strange life of their own. Little things, at first: a dress from home, a vision of her sister. With each tale she spins, her power grows. Soon she dreams of bigger, more terrible magic: power enough to save a king, if she can put an end to the rule of a monster.
From Goodreads
The review
It is not often that a book totally enthralls and enchants me from the first page, but that's what this book did. I just fell right in love with this author's writing style, setting and of course her characters. Right now I will mention that one of my favourite scenes was when our main character was watching the star fall over the desert..
Image source: view image source
Among the other things I loved were: the strong bond between the MC and her sister, the rich descriptions of the desert, the writing style, the strong eastern Arabian feel to the whole story and the feminist power of our MC's actions.
"If you listen long enough to the whispers, you will hear the truth. Until then, I will tell you this: the world is made safe by a woman. She bound the monster up and cast him out, and the man who was left was saved."
― E.K. Johnston, A Thousand Nights
You'll notice I don't use any names here not because I don't want to but because only three characters in the whole book were given names our MC not included. While I can understand that this annoys some people, for me it just added more magic and mystery to the book and since our MC narrates, this gives me lots of senses of wonder towards her and the power she discovers as she could be absolutely anyone…. this I surprisingly like I've got to say.
As I mentioned before, the writing was simply magical, musical and so beautifully done. The descriptions of the characters and desert were brought to life in the most amazing way with this really deep kind of wonder that made me stop and think quite often. However, on saying all these good things I can also understand how this book isn't for everyone as it is quite slow-paced with not a lot of action and some may find this very boring and dull. But not me! I loved every word!
"The monster tested her, pulling at her soul and rending her spirit. She clung to life, and in the clinging she might have become a monster too, except she chose the path her story would take. She chose white stone walls and a golden crown. She chose to debate words of law, and to never grind her own grain. She chose to fight men every day, and then fight their sons, who thought they knew better than their fathers.<…> If you listen long enough to the whispers, you will hear the truth. Until then, I will tell you this: the world is made safe by a woman."
― E.K. Johnston, A Thousand Nights
Who I'd recommend this for:
Because I loved this book so much I would say everyone should at least give it a go, it has a strong female character and beautiful writing but like I said I can understand it's not for everyone. I'd say this book is for people looking for a new type of YA love story that is beautifully written, strongly developed and not at all forced. The story flows smooth like silk and doesn't rely on bare knuckle action to put in a punch.