Top Ten Tuesday is an original feature/weekly meme created by The Broke and the Bookish in June 2010.
This weeks theme is the best and worst dads in literature and while I've read a great many books in my lifetime and have thought about this subject greatly, most books I've read don't involve a lot of dads. They're mainly background characters or get killed or have left home etc.
Because of this dismissal of dads (and the upcoming fathers day), I'm going to aim this post mostly at my dads reading preferences when he was young. Let me start by saying my dad and his mother are the main reasons I love reading today. When I was little you won't believe I never liked books and couldn't stand the thought of sitting still and reading! :O But over time my dad and grandmother showed me and read to me books from their time and after around 13 I couldn't stop thinking of books 😛
Here are some of my dad's favourites while growing up:
Thomas The Tank Engine by Wilbert Awdry
This was a favourite of my dad throughout his childhood and to be honest he never grew out of these books and neither did I! I remember my dad kept these old books from when he was a kid and read them to me at night when I was young. I loved these stories! And I even love the tv series right to this day but for my dad the old stories are the only ones who remind him of good times and give him nostalgia. He thinks the TV series are silly lol. But to me I'm not the least bit surprised that these stories have captivated millions of children worldwide.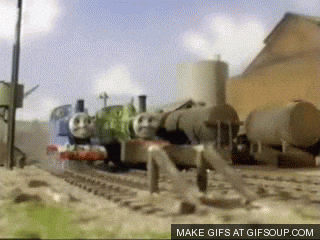 ---
Swallows and Amazons by Arthur Ransome
Other than all the original Thomas the Tank Engine books this series was an all time favourite for my dad when he was young. I've yet to read these books even though we have the complete series here at home but for years when I was young my dad has been trying to get me into these. But all through my life I have craved fantasy and dad hasn't and this series is more adventure than anything. But I will definitely give these a go one day as I'm more flexible in my reading choices these days.
Orlando the Marmalade Cat: A Seaside Holiday by Kathleen Hale
These books by Kathleen Hale were an all time favourite for everyone in my dad's family while growing up. When this book was given to me as a child I soon understood why my dad and how any child from both genders would love this simple, humorous yet vastly entertaining story. This book has been the source of many of my imaginings to this day and the thoughts of my invented fairy kittens came from this book. Oh boy, how I want to get my hands on more of these books!
Books I've read with the best and worst father
There are two books I can think of that I've read that have significantly good and bad fathers.
Bad
Devil's Kiss by Sarwat Chadda
Throughout this book our heroine is treated like fecal matter by her dad and pressured to always perform well and bend over backwards for him. It was all unclear why until we found out it was a vision from some young oracle years before that he had to be killed by his daughter for the "greater good" *eye roll* so therefore he was doing his best to make her hate him to prepare her for that day. What a noble clever man *sniggers*.
Good
The Journal of Curious Letters by James Dashner
While this was an awesome book in itself I really did like the level of care our hero's dad showed to his son. It was heartwarming in a way and the strong bond between father and son was there throughout the series, this definitely reminds me of my dad… Putting the strong bond aside I would like to highly recommend this series to anyone who likes adventure and the confrontation of the parallel universe theory.. I know, I know! I'm going off on a tangent again 😛
So that concludes my list for father's day! I will definitely be checking out the Swallows and Amazons series and look for more books from my father's time (though it seemed it was my aunt who read more than my dad) as it seems some of the best books come from around his time..