Waiting On Wednesday is a weekly meme hosted by Breaking the Spine which focuses on upcoming releases we're looking forward to.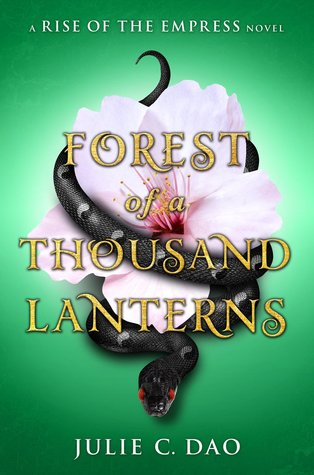 Title: Forest of a Thousand Lanterns
Author: Julie C. Dao
Release Date: October 10th 2017
Summary : An East Asian fantasy reimagining of The Evil Queen legend about one peasant girl's quest to become Empress–and the darkness she must unleash to achieve her destiny.
Eighteen-year-old Xifeng is beautiful. The stars say she is destined for greatness, that she is meant to be Empress of Feng Lu. But only if she embraces the darkness within her. Growing up as a peasant in a forgotten village on the edge of the map, Xifeng longs to fulfill the destiny promised to her by her cruel aunt, the witch Guma, who has read the cards and seen glimmers of Xifeng's majestic future. But is the price of the throne too high?
Because in order to achieve greatness, she must spurn the young man who loves her and exploit the callous magic that runs through her veins–sorcery fueled by eating the hearts of the recently killed. For the god who has sent her on this journey will not be satisfied until his power is absolute.
From Goodreads
Thoughts:
Because I travel to Asia (usually in the summer) and have been on Christmas holidays there when I was young, south-east Asia has a special place in my heart. Not only that but I love the diversity, history, culture and mythology of this continent (well I like mythology from all over the world really but Asia is somewhere my family is fond of) and have always loved the vibe I get when getting off the plane in a new culture. Anyway, putting that aside I am also looking forward to this book because I love all cultural fantasies regardless of where they come from. It's just so nice to see mythology based fantasies set in different diverse settings (I mean this in a way that most fantasies are set in Western settings with either Greek or Celtic mythology and it's just nice to step out of that shell once in a while). I'm going to get a copy of this book whether I get approved for an arc or not!