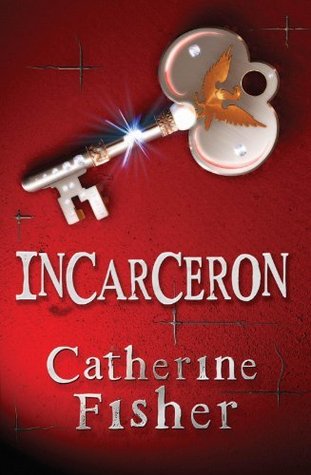 Author: Catherine Fisher
Release Date: May 3rd 2007
Genres: Young Adult, Dystopia, Science Fiction, Fantasy
Series: (Incarceron #1)
Pages: 458
Pacing: Medium to slow
Description
Incarceron — a futuristic prison, sealed from view, where the descendants of the original prisoners live in a dark world torn by rivalry and savagery. It is a terrifying mix of high technology — a living building which pervades the novel as an ever-watchful, ever-vengeful character, and a typical medieval torture chamber — chains, great halls, dungeons. A young prisoner, Finn, has haunting visions of an earlier life, and cannot believe he was born here and has always been here. In the outer world, Claudia, daughter of the Warden of Incarceron, is trapped in her own form of prison — a futuristic world constructed beautifully to look like a past era, an imminent marriage she dreads. She knows nothing of Incarceron, except that it exists. But there comes a moment when Finn, inside Incarceron, and Claudia, outside, simultaneously find a device — a crystal key, through which they can talk to each other. And so the plan for Finn's escape is born …
From Goodreads
The Review
This book had an exiting premise which I'd gushed and obsessed over in the waiting time it took my library to retrieve it. I mean it to me has ties to books like The Maze Runner (which is one of my all time favourite books) what with Finn not being able to remember anything off his past, only snippets.
So where did it go wrong? I'd say it started to get boring and go downhill after the first few chapters where after that it just started to describe the everyday life of Claudia. Then with Finn things started to look up but I soon lost interest in him too because the pacing and writing style became so slow and boring with hardly any intrigue left. So to put it short the writing style had absolutely nothing special in it where it could and should have had an air of mystery about it, it was just flat boring and dry.
I also regret to admit (actually I don't) that the characters were also as equally boring as the writing style and storyline. The two mc's at the beginning showed potential to be memorable but as the story went on it became obvious this author doesn't know how to write exciting characters (well not what I call exciting) and all that lovely potential flew out the window along with my interest in the book. Take Finn for example, he had every opportunity to be this strong badass character (especially given his history and identity) but instead he turned out, along with everyone else, to be this emotionless, characterless 2D cutout. I mean come on.
The next character with the most wasted potential was the Prison itself.
"Walls have ears.
Doors have eyes.
Trees have voices.
Beasts tell lies.
Beware the rain.
Beware the snow.
Beware the man
You think you know.
-Songs of Sapphique"
The prison was this vast living AI thing that had cameras or Eyes everywhere so could see and hear everything that went on in the prison. It also had the immense ability to change or alter anything and everything in the prison-scape at anytime so corridors and landmarks can appear and disappear anytime. This character was supposed to be like an all-seeing cruel godlike entity but to me it sounded more like a petulant child and while I understand it was conscious and wanted to know what was Outside, it just to me sounded like a child that wanted attention and was not getting its own way. There was just no personality which made the whole concept very uninteresting and unbelievable.
The worldbuilding was also something that got on my nerves as it was never really explained. We weren't really told how Claudia's world became the way it was or why the people in Incarceron had lost all memory of Outside. Plus the ending in itself was confusing, a definite WTF ending for me.
Who I'd recommend this for
I wouldn't recommend this book for those looking for an action packed read or a romance. Don't be fooled by the description! I'd recommend this book for those who like slow-paced stories that have confusing endings and not a lot of suspense.